Available Sept. 3, 2022 @ 0:00 ~ Sept. 11, 2022 @ 24:00 Japan Time. As long as you start watching during this period, you'll have access to the film for 72 hours through your purchase history, even after the period ended. Please note, however, that when you RSVP, it seems that the viewing period clock begins clicking at the moment of video's release (0am, 9/3), for 72 hrs. Price (taxes included): 660 yen or $5 USD
RSVP or View International Short Films
---
Your comments would be appreciated on the vimeo site. You can also email us at info@unoportartfilms.org or vote for Audience award and include your comments there. We will deliver to the respective filmmaker.
---
To the Girl Who Looks Like Me
Director: Ewurakua Dawson-Amoah
An experimental poetry piece celebrating Black women who continue to thrive in a system that was not built for them. A study of culture, self-love and self-discovery through a string of vignettes that combine dance, folklore, modern culture and spirituality.
Ewurakua Dawson-Amoah Canada born, US raised, Ewurakua grew up in a tiny town in New Jersey. During her childhood, she immersed herself in storytelling and an array of music genres. Eager to be a "borderless storyteller", her interests span from comedy to horror, and she plans to create work in various genres and mediums.Ewurakua is a recent grad of New York University's Tisch School of the Arts. Her work has been recognized in numerous film competitions, including Fusion Film Festival, Raindance Festival, Cinequest, Toronto Black Film Festival, NFFTY, and the Tony Hawkins Award for Excellence in Sound Design. In August of 2020, her short film "To the Girl That Looks Like Me" was named a finalist in the Alternative/Experimental category of the 2020 Student Academy Awards. Ewurakua's To the Girl That Looks Like Me is part of the Scene in Color Film Series, presented by Target, with the film available to watch on Rotten Tomatoes, MovieClips Indie Channel, Peacock, and the NBC App.In 2020 she launched The Melacast Network, a platform focused on connecting BIPOC actors, directors, and crew.Ewurakua is currently working as a commercial director in NYC. She loves to travel, train in Shito Ryu karate, and make music.
2021, 5min, poetry video art, color, USA, in English with Japanese SDH caption subtitles
–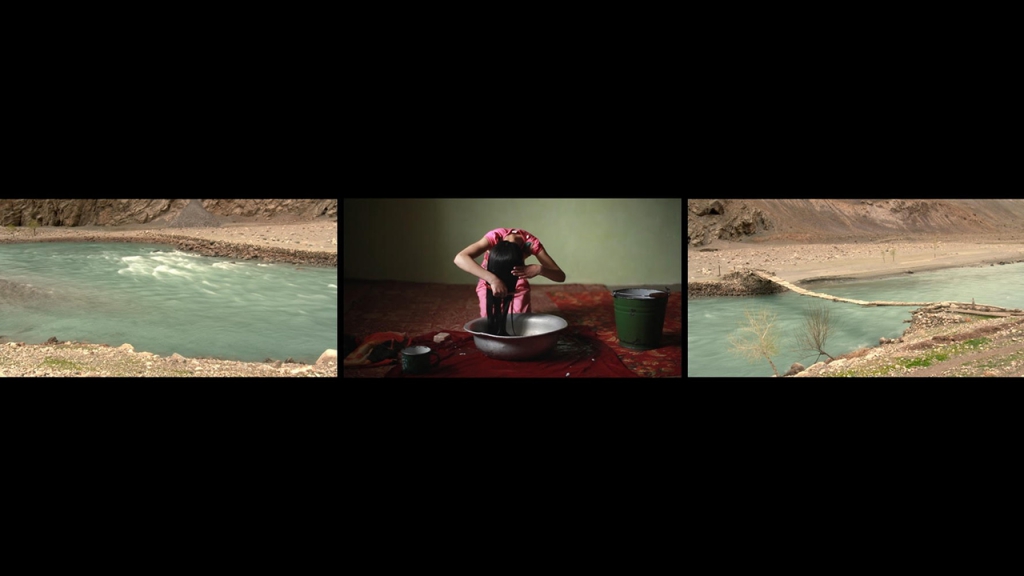 Stains of Oxus
Director, Cinematographer, Editor: Saodat Ismailova
Stains of Oxus is a three-screen installation dedicated to the Amu Darya (Oxus) River rising in Alichur (Pamirs) and ending in the Aral Sea. The installation represents a mystical river of dreams and collective memory filled with archetypes and totems. To whisper one's thoughts and dreams to running water is a morning ritual and an ancient local tradition. All visions and sounds are conveyed using rhythmic choreography, documented evidence, landscapes and images of people. Traveling along the banks of the Oxus we meet people of different ages whose lives are inextricably linked with this river.
Saodat Ismailova (b. in Tashkent) is a filmmaker and artist who came of age in the post-Soviet era and has established an artistic life between Paris and Tashkent while remaining deeply engaged with her native region as a source of creative inspiration. After graduating from Tashkent State Art Institute she was granted a residency at Benetton's Fabrica research and communication center in Italy. There she directed Aral: Fishing in an Invisible Sea, which won Best Documentary at the 2004 Turin Film Festival. In 2005 she was awarded a place in the DAAD – Artist in Residency program in Berlin, where she developed her debut award-winning feature film 40 Days of Silence, which premiered at Forum Exapnded, Berlin International Film Festival, in 2014. She participated in the 2013 Venice Biennale as part of the Central Asian Pavilion with her video installation Zukhra. In 2017 Ismailova was an artist in residence in OCA (Office of Contemporary Art, Norway) where she developed her short film The Haunted. In 2018 she graduated from Le Fresnoy, France's National Studio of Contemporary Arts, where she developed Stains of Oxus and Two Horizons. In 2018 her multimedia performance Qyrq Qyz (Forty Girls), produced by the Aga Khan Music Initiative, was presented at BAM (Brooklyn Academy of Music) in New York and at Musée de quai Branly in Paris. Among her personal exhibitions are The Haunted in Tromso Kunesteforenin, Norway (2017); What was my name? in Aspan Gallery, Almaty (2021); and Q'org'on Chirog' at the Center for Contemporary Arts in Tashkent (2019), where, in 2020 she created the educational program CCA Lab. In 2021 she established the research group Davra, dedicated to studying, documenting, and disseminating Central Asian culture and knowledge. Ismailova's work will be presented in documenta fifteen, 2022. Her works are in the collections of Amsterdam's Stedelijk Museum and Centre Pompidou, in Paris.Short bio (from e-flux site):
Cinematography, Editing: Carlos Casas, 2016, 22.5min, Uzbekistan.
–
El hijo de Ruby
Director & Writer: Gisela Rosario Ramos.
A broken-hearted young man goes through a journey of healing the memory of his junkie dead father through the one thing they have in common, dance.
Gisela Rosario Ramos Gisela Rosario Ramos is Macha Colón, a puertorrican undisciplined artist based in San Juan, Puerto Rico. Her award-winning short documentary El Hijo de Ruby has been shown in many international festivals. She studied Black and Puerto Rican Studies, Fine Arts, and Film and Media Studies at Hunter College in NYC where she worked as a documentary editor. She's an Art Matters Foundation and NALAC grantee, a 2021 William Greaves fund fellow from Firelight Media and a 2021 United States Artist Fellow. Her first feature narrative, Perfume de Gardenias, premiered at the Tribeca Film Festival in 2021 and won some awards including a Best Feature Film at the Trinidad & Tobago Film Festival and Guadeloupe's International Film Festival.She's also a cultural events producer, a performer, and a musician.
Hybrid documentary, Puerto Rico. 2014, 16min, color. In Spanish with English subtitles and Japanese SDH caption subtitles.
–
THE IMMINENT IMMANENT
(Baga't Diri Tuhay Ta't Pamahungpahung)
Writer/Director: Carlo Francisco Manatad
A rural town unknowingly goes on with their mundane activities while strong forces of nature silently creeps in to challenge their existence. Meanwhile, the filmmaker traces back his roots while preparing himself for the worst after the typhoon. Premiered at Toronto International Film Festival.
Carlo Francisco Manatad is a filmmaker from Tacloban City, Philippines. He is a graduate of the University of the Philippines Film Institute. His short film, Junilyn Has, competed at the Festival del film Locarno and went on to screen at several international film paving the way for him to make Sandra and Fatima Marie Torres and the Invasion of Space Shuttle Pinas 25 which won him recognition in festivals abroad. Jodilerks Dela Cruz, Employee of the Month, his 4th short film was selected in competition at the 56th Semaine de la Critique at the 70th Cannes International Film Festival.
An excerpt from an interview article by Singapore Int'l Film Festival's website:
Adora: In your film, are you depicting what happened before Typhoon Haiyan, where the people of Tacloban were oblivious to the imminent typhoon, or were you portraying their oblivion to the next possible natural disaster?
Carlo: "Oblivious" may be an upsetting word to describe how they act and react. It is a sad fact that in my hometown, Tacloban, storms come and go. And people may seem to react dispassionate about it, but they really are not. It is a fact that being anxious would be the first reaction with everything that would come upon them but being anxious wouldn't change the fact and help them to survive another disaster. So, they do react towards this as an almost normal form of pursuit and how they move is their way of being one step ahead of being prepared for a disaster. It is a desolate and wretched reality that these people have to face. The short is very particular and not as well, the situation presented – I needed to create a specific mundane world but with no specific rules so the characters can freely move and react to what is about to come.
I also needed to project how the "monster" the typhoon is a "monster" in the most impactful way possible, but also in a simple manner so that it doesn't not overshadowing how the characters and other elements of the film are in their its own states.
A: As the title suggests, there are references to religion/spirits in your film. How important are religion/spiritual beliefs to you and your family and friends?
C: I would talk about religion in a general sense. The Philippines is culturally religious to say the least. As such, I do feel and think that religion plays a big role in shaping how belief is written in the minds of not only these characters but also among Filipinos in general. This is where they look up to when everything is gone, when you have nothing. While religion is here to stay, it sometimes gets too absurd when people tend to just believe, instead of acting towards their current state to achieve what they want.
A: Towards the ending of the film, I noticed the use of archival footage. Is the footage taken by you during Typhoon Haiyan? Are the photos of you and your family and friends?
C: The footage was taken during the storm and the photos presented in the film were my childhood photos. It was a process where I tried for me trying to make sense out of thisan almost nonsensical short. It came to a point wherethat the film was finished but still wasn't – at least for me. So I went back to the grassroots; of how I wanted the film to be. I realised that this film was the most personal one, but it felt very distant in its approach, where I tried to fictionalise the experiences of the people presented in the film. Then, I realised it was me that was the missing piece of the film.I then decided to just bluntly put myself in.This may sound tacky but it was then that I felt the film was complete.
Philippines/Singapore/Italy, 2018, 15min. Drama.
Producer: Armi Rae Cacanindin, Executive Producers: Quark Henares, Jan Pineda, Arleen Cuevas, Raya Martin, Co-Producers: Ling Tiong, Giovanni Pompili, Jim Baltazar, Khavn, Achinette Villamor, Cinematographer: Albert Banzon, Sound Recording: Donald Ilagan, Sound Design: Kat Salinas & Mikko Quizon, Editor: Benjo Ferrer III & Carlo Francisco Manatad, Set Designer: Michael Español, Costume Designer: Bam Manlongat, Make-Up Artist: Jeff Cabral, Cast: Sylvia Sanchez, Angeli Bayani, Arjo Atayde, Chai Fonacier
–
Terror Contagion
Director: Laura Poitras
Forensic Architecture is a multidisciplinary research group of activists, artists, scientists, and architects, based at Goldsmiths, Univ. of London. Founded by Eyal Weizman, a British Israeli architect and professor, the group uses architectural techniques and technologies to investigate cases of state violence and violations of human rights around the world. They have collaborated with TV stations, filmmakers, web designers, or galleries, and work far beyond the borders of journalism, technology, and art. One day, in the pandemic, Laura Poitras, a documentary filmmaker known in the world for "Citizenfour" (2015 Academy Award winner), was asked by Forensic Architecture to participate in their on-going investigation on the Israeli cyberweapons manufacturer NSO Group and the use of its Pegasus malware to target journalists and human rights defenders worldwide. Poitras herself has been targeted by the state surveillance, especially since Citizenfour. She had been investigating how the US is becoming a surveillance state through her films (and that's why Snowden first chose to contact her to leak the massive NSA info to the media). In this short film, you will see their discussions on Jitsi (encrypted and secure open-source platform) as well as 3D maps of state violence in the world. The world of those neon-colored data, which appears surreal yet is very real, is terrifying and beautiful to watch. Their collaboration has given birth to this film as well as an installation project of the same title, which has been exhibited so far at Musée d'art contemporain (MAC) Montréal (Dec 2021-April 2022). The installation project is narrated by Edward Snowden, and music composed by Brian Eno. As you see on the museum website, the project explores a new art form combining art, activism, architecture, and investigative journalism.
Laura Poitras (Director) A world renowned American documentary director and producer. Past works have been awarded in numerous places. Her 2003 film My Country, My Country portrayed an Iraqi family living under the US bombing and was nominated to the 2007 Academy Award. In 2010, Laura made The Oath, a film about two Yemenite men: Abu Jandal, one of the 12 bodyguards of Osama bin Laden and high-ranking member of al-Qaeda who remained free and drove a cab in Yemen in the film, and Salim Ahmed Hamdan, a short-term driver of bin Laden for hire in Afghanistan who got caught by the US and imprisoned in Guantanamo for 6 years. In 2015, Laura's Citizenfour won an Academy Award. She calls these 3 works a trilogy on "America after 9.11." In 2016, she made Risk about Julian Assange and WikiLeaks. In journalism, she won the George Polk Award for national security reporting related to the NSA disclosures. The NSA reporting by Poitras, Glenn Greenwald, Ewen MacAskill, and Barton Gellman contributed to the 2014 Pulitzer Prize for Public Service awarded jointly to The Guardian and The Washington Post. Poitras was one of the founding editors of the online newspaper, The Intercept. However, Greenwald left The Intercept in 2020, and Poitras was fired by its parenting company. In the world of fine arts, she was included in the Whitney Biennial in 2012, and had a solo show at the same museum in 2016.
Producer: Anonymous, Investigation by" Forensic Architecture, Editor: Sabine Hoffman & Laura Poitras, Music: Brian Eno. Featuring: Forensic Architecture staff. In collaboration with Citizen Lab. 25.5min, 2021, hybrid zoom documentary
(Total running time: 83 minutes)